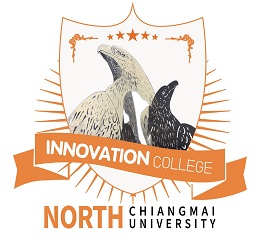 About our College
In 2018, North-Chiang Mai University integrated the technological foundations of its existing incubator units with the research strengths of the Faculty of Business Administration and the Faculty of Humanities to establish the Innovation College. The college will focus on research on data transfer technology and innovation on the business structure between Thailand and China, including innovative operations of the Faculty in various aspects such as online commerce business, education from wisdom, data analysis, and more.
Since the founding of the college, the Innovation College has built a microwave data transfer facility, Youth Protection Research Center and Wisdom Enhancement Classroom, Northern Economic Research Institute, and the Innovation Laboratory in Integrated Engineering, which are all the origins of the establishment of the Doctorate of Philosophy program divided into two branches: Innovation Management for Business Development; (Ph.D.) and Business Administration (DBA) By developing from the academic Master of Business Administration program in Strategic Management and applying the basic course plan from the bachelor program system, the college has had a good relationship in the past through working with OPPO Thailand, Fanslink Group, China Mobile Thailand and ICBC Bank Thailand. Furthermore, we look forward to deepening those ties and broadening our ties to various circles for internships and student employment in the future. Therefore, the Innovation College has a collaborative development model based on valuable resources driven by scientific research achievements and supported by technology transfer.
Our faculty has selected the best personnel and carefully planned courses and activities. Therefore, students receive proper academic training and learn about data transfer technologies and applications to strategize on different local and intercultural business management concepts, helping prepare students for future advancement.